About Hotel Ändra
"A Seattle hotel that is just cool enough" – LA Daily News
Hotel Ändra is a stylish 119 guestroom boutique luxury hotel ideally located in the heart of downtown Seattle. Nestled between popular South Lake Union and Belltown next to the retail core, this surrounding downtown area is thriving with food, music, art and history. Within walking distance of famous Pike Place Market, Seattle Center and the Space Needle, Hotel Ändra provides a sophisticated urban escape with first-class luxury hotel offerings.
Hotel Ändra also offers sophisticated spaces for meetings and events with venues such as the Northern Lights Room, the Galleri and the Ändra Loft. We would love to help you arrange celebrations of any kind, private dinners, board meetings or other events. Events can be done together with exclusive catering by Tom Douglas – Seattle's most celebrated chef and restauranteur.
Background
"Ändra" means "change" in Swedish, and changed is what we are. Now one of the premier luxury hotels in downtown Seattle, the building first opened in 1926 as efficiency apartments and became a transfer station for members of the Women's Army Corps from late 1945 through 1947. In the 1970s, the building was restored to become a small boutique hotel, and was thoroughly re-created to become Hotel Ändra in April 2004.
Team Umlaut
What's in a name? For us, a lot. An umlaut is a marking used over vowels to denote a different sound, changing a word completely. We liken ourselves to the umlaut and strive to embody this philosophy. As Team Umlaut, we take what could be an ordinary stay and add the Ändra spirit of hospitality to create the ultimate guest experience.
We look forward to creating a great stay for you and becoming your home away from home while in Seattle.
Design & Style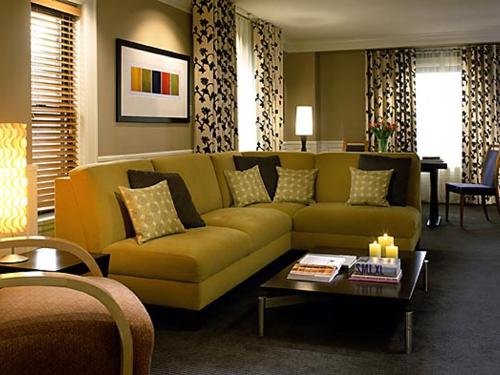 Hotel Ändra is uniquely Seattle and a world apart from other Seattle luxury hotels. The Scandinavian design elements are a tribute to the city's Nordic heritage, while the use of prominent Pacific Northwest elements – water, wood and stone – is present throughout the hotel. The design reflects the contrast of modernism and sustainability – sleek and textured, light and dark, warm and cool, modern and traditional.
The Living Room
Stepping into the Living Room, guests are surrounded by distressed plank floors with inset custom wool hand-knotted rugs, warm walls, and rich brown woods. Low sofas combined with wood coffee tables made from fallen Seattle trees and leather ottoman cubes create an atmosphere that invites conversation. Cocoon-like leather side chairs look out onto tree-lined Fourth Avenue. A quiet corner by the fireplace features a Platner coffee table and four chairs, which is often occupied by guests reading the paper or working on their laptops.

The dramatic lobby fireplace, constructed of local split-grain granite, is surrounded by floor-to-ceiling maple bookshelves filled with books on Scandinavian culture, Northwest interests and an exquisite collection of colorful glass vases.
The luxurious front desk is walnut and maple, inset with glass above the floor and below the honed granite counter, lending itself to a "floating" appearance. Behind the desk, commissioned glass art pieces are backlit and framed by a warm maple wall. A large boathouse door constructed of maple, black steel and frosted glass opens the hotel's Living Room into the Tom Douglas bar and restaurant, Lola.
The Ändra Loft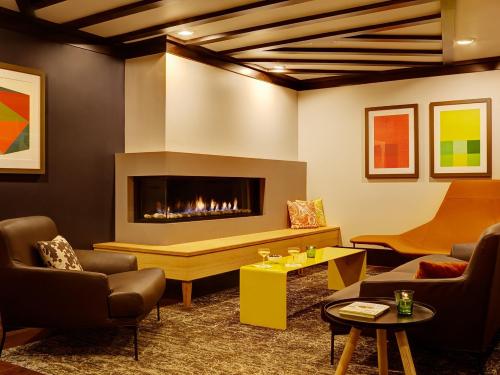 Metal and wood stairs, commissioned by a local artist for the hotel, lead to the mezzanine level – also known as the Living Room Loft. Floating above the hotel's Living Room lobby, the exposed loft was designed for casual meetings and socializing.

Contemporary salon chairs designed by Finnish architect Alvar Aalto create an intimate space for relaxation, while Arne Jacobsen swan chairs in hot orange, alongside brushed aluminum side tables, give the space a warm, residential feel. The minimalist glass and steel railing was designed to allow guests an easy view of the Living Room below.
Corridors
Our corridors submerge you with perforated pewter blue metal ceilings, which project "underwater bubbles" of light along the walls. Sconces constructed of laminated linen and brushed stainless glow along the hallways. The carpet, with waves of undulating layers of deep blue and rich brown, contrasts the kelp green walls and ushers you through our truly unique luxury hotel in downtown Seattle.